The Econo-Cover Difference!
Our inexpensive radiator and baseboard heater covers are made by people who have been in the radiator cover business for decades. With all of that experience we figured out how to create high quality covers at a price everyone can afford. Now there's no reason to keep staring at that dirty old radiator cover!
At Econo-Cover, we only use the finest materials and finishes so your covers will last a lifetime. That's the Econo-Cover difference!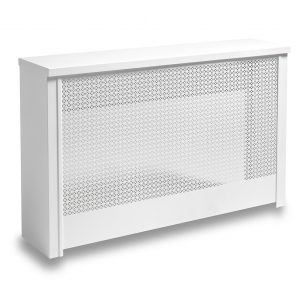 The Econo-Cover
Starting at $370.51
The Econo-Cover is made with 20 gauge steel construction and a 22 gauge steel perforated front.
Choose our standard square corners or upgrade to rounded corners for only $100.
All our covers include a high quality powder coated finish. Choose one of our standard colors: Mintex White, Soft White or Antique; or, choose one of our premium colors: Mintex Gray, Brown, Black, or a Zinc Rich Primer. Our premium colors are an additional $250.oo per color per order.
Price includes a maximum depth of 15 inches. For depths greater than 15 inches please call us for a custom quote.
Freight is also included when shipped within the continental United States.
All dimensions are in inches (").